24Sessions raises series A from Capital Mills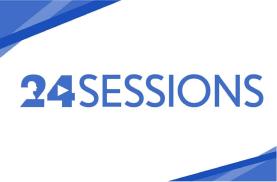 24sessions, the leading Dutch-based software provider of video calling technology for customer interaction, raised €1.000.000 from Dutch venture capitalist Capital Mills to accelerate their international growth.
The technology of 24sessions is being used by large banks such as Rabobank, Argenta, and Aegon, so they can offer video calling as a new customer interaction channel. With 24sessions these corporates are able to offer personal customer contact whilst closing branches and digitizing services. Next to banking, 24sessions is also used in other industries that rely on face-to-face contacts, such as HR (video recruitment), Insurance and Pharma.
"We're really excited to partner with Capital Mills. In the last year we've tripled our revenue, doubled our team and grew to a leading position in the Benelux. This investment enables us to grow even faster by entering new markets and investing in sales."
Barry de Kock, Investment Manager Capital Mills: "We are impressed by 24sessions' innovative technology and execution power. With the right mix between team and tech they have rapidly grown and became market leader in the Benelux. Customer reviews and market research underpin their growth potential. We are happy to become part of 24sessions and help the company scale and become a European market leader"
What sets 24sessions apart from other enterprise video conferencing tools is that it takes just 1 click to join a video call. It requires no downloads and customers can join the call from any mobile or desktop device without any installations. On top of that, video calls can be branded and embedded in the customer journey and 24sessions has appointment scheduling, CSAT tracking, and conversational analytics built-in to their product.
CTO Konstantin Goncharuk: "Until now, most enterprises have struggled to roll-out video calling as a major customer interaction channel, even though the ROI potential is tremendous and customers expect such a service. This is because their existing systems, such as Skype and Webex, are simply not built for customer interaction."
About 24sessions: 24sessions introduces a new and better way to meet customers through video calls. Large banks, insurance companies and other service providers use 24sessions to offer video calling as a customer interaction channel. Through smart automation and calling analytics, 24sessions empowers financial advisors, recruiters, and sales agents to focus on what really matters: building the customer relationship – not on repetitive admin jobs, scheduling of meetings or boring compliance tasks. 24sessions first entered the market in 2016 and is used by leading enterprises such as Rabobank, Achmea, Celgene, and Vattenfall. 24sessions was named one of the top 10 best B2B startups in Europe in 2016 by Google, McKinsey and Rocket Internet. For more information visit www.24sessions.com