AlphaOne has successfully raised funding from Capital Mills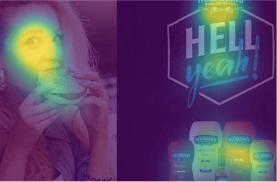 AlphaOne will use the funds for further developing of their Expoze.io platform
With AI at its heart, the platform predicts how consumers visually experience a video, image, or design and visualizes its findings via a heat map. The platform is an excellent solution for marketers and designers for whom eye-tracking results can help to make the difference.
The funds support the development and roll-out of the www.expoze.io platform and strengthen Alpha.One's position as a pioneer in combining neuroscience and machine learning.
Unique, fast and economical
Based on brain data and neural networks (machine learning), the platform predicts the expected human response in real-time. Marketers and designers can measure and predict what will get the most visual attention. They can continue to optimize designs until they have created the visually most striking version. The platform avoids the inherent disadvantages (lead time and costs) of conventional eye-tracking studies.
Large data set
Understanding what will get noticed and how people respond is Alpha.One's primary goal. We base our algorithms on large data sets that we have collected in recent years. With this platform, we enable a more data-driven improvement of creative work, without affecting the core of the creative idea.
A beta version is currently freely available on www.expoze.io.
"This funding, apart from further building the platform also boosts our go-to-market initiatives. Furthermore, we are happy to get seasoned entrepreneurial experience on board."
"We believe in Alpha.One, as we see an excellent team and a combination of skills, experience, and a unique data set. Combined with the proven ability to attract blue-chip customer names is what made us enthusiastic," said Cees Meeuwis, lead investor.
About Alpha.One
Capital Mills is a Dutch venture capital firm that focuses on long-term collaboration and active support of innovative Saas and Internet companies. Backed by a group of experienced entrepreneurs, Capital Mills prefers to participate just before or from Series A round financing onwards. For more information, visit www.capitalmills.nl.
About Capital Mills
Alpha.One was set up in Rotterdam in 2016 and is active in a domain where Neuroscience and Machine Learning (AI) meet. Founded by Ph.D.'s and in partnership with the Rotterdam School of Management (RSM), at the Erasmus University, it aims to help good companies make better decisions. For more information, visit www.alpha.one.