Convious acquires Tapperuse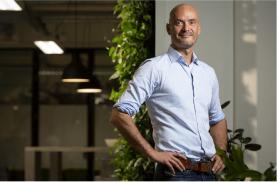 Launches Tap to help leisure industry recover from COVID-19 impact
ter COVID-19, adjusting to the new rules and regulations might seem a tour-de-force but it's even more demanding for businesses that host people. To help venues easily manage their routines and stay compliant with COVID-19 rules, the Amsterdam-based ecommerce platform Convious has acquired bankrupted Tapperuse and announced a new app called Tap. In a conversation with the company's founder and CEO Camiel Kraan, Silicon Canals learns more about how the deal happened, what problems Tap solves, and more.
NEW MOBILE EXPERIENCE FOR THE LEISURE MARKET
Tap is Convious' first fully branded mobile ticketing platform for the leisure industry. The new app enables users to create their own, fully customised, app environment so that they can offer a 'seamless' mobile experience for guests before, during, and after their visit. As per Convious, the Tap app will enable businesses such as zoos, wellness, theme parks, and museums, among others to improve their guests' experience and engagement.
"True eCommerce is long due in the Leisure industry. We are thrilled to see our fast-growing customer base using our platform and reap the benefits of reducing dependency  on third parties and selling more directly to visitors. COVID -19 changed the market and 'online' is more important than ever. By adding the Tap technology and its team, we extend our offering to native mobile apps at a fraction of the usual cost while having the full benefits."
As to what problems the Tap app solves, Kraan notes that the app helps in three steps. "First off, it offers a pay per minute option for any venue or activity you prefer. For instance, there's no fixed fee in the wellness sector but one can simply enjoy a quick sauna while paying considerably less. Secondly, the other side of our app features a full mobile stack including geofencing, in-app messaging, etc, which is helping our customers become COVID-19 proof. Adding these features is the next step for the leisure industry to keep their visitors safe, informed while enabling them to have a great time."
The third step, as per Kraan is the company's direct to consumer approach. "Our platform is all about enabling customers to sell and communicate directly with their consumers. It's akin to an evolution in eCommerce that is already embraced by retail (Nike moving away from Amazon, for instance), and we are observing the same in leisure currently. One can't do this without an app strategy." Kraan adds.
ACCESS A HOST OF NEW FEATURES
Tap doesn't just enable its users to customise the app as per their preference but they also get access to some new features. These features include in-app and location-based messaging, GPS with geo-fenced in-venue crowd control and heat-mapping, access and capacity management, along with mobile advertising. All of these features are accessible from the get-go, without any additional development cost.
The Tap app also offers new revenue generation opportunities via instant mobile payments for new tickets or upsells. It also comes with a unique feature called "Pay Per Minute." As the name suggests, the option enables visitors to only for the time spent on the venue in a pay-as-they-go payment option. This can be particularly useful for users, especially in the aftermath of the pandemic.
Launched back in 2017, Convious was founded in Amsterdam by Camiel Kraan and Kevin Westermeijer. The company has raised a notable €3.6M in funding till date and is now moving further along on its goals of transforming the leisure industry. "In short, we're cash positive as we speak but as we want to continue our growth we are looking into a next round which can help us expand faster across territories and verticals," Kraan says when asked about the company's stance on funding.