Helin accelerates growth with revenue-based financing from Capital Mills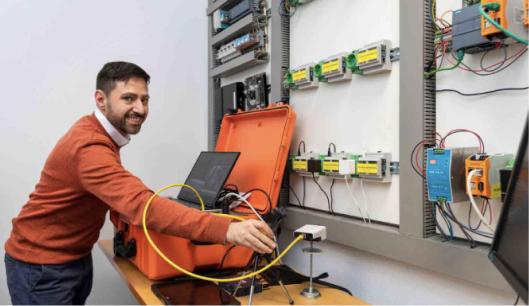 Helin accelerates growth with revenue-based financing from Capital Mills
To further accelerate its growth and innovation Helin has raised a revenue-based financing investment from Capital Mills. This enables Helin to increase brand awareness, intensify sales capacity and develop distinguishing security features.
By servicing global clients like Maersk and Total Energies with expert solutions for remote operations over many years, Helin has accumulated great experience in edge computing. The company utilized this to develop its versatile edge analytics platform Polaris and transform into a Software-as-a-Service (SaaS) scale-up. Polaris enables industry clients improving operational efficiency of e.g., ships, cranes, and solar farms, by making implementation of local artificial intelligence simple, fast and versatile.
"This investment will allow us to intensify our growth initiatives of managed industrial data services and make our Polaris platform even more unique."
Edge computing made simple by Polaris
One of the biggest challenges in industry is to future-proof existing capital intensive assets like mobile cranes, vessels, or even energy grids. Often there is limited access to operational data, let alone the option to implement real-time analytics in a secure manner. Polaris answers to this increasing demand for high-performance and scalable edge computation and monitoring. It combines local artificial intelligence with a centrally managed data and application infrastructure. While often expert development teams are required to implement and manage such type of solutions Polaris makes this simple, thereby limiting the overhead cost.
Industrial-Data-as-a-Service
With the newly raised capital, Helin will further accelerate on sales and innovation. There will be a strong focus on standardizing the onboarding process, which will facilitate the managed services Helin is starting to provide on top of Polaris. Increasingly more clients prefer these care-free industrial data services. It reduces entry cost for these clients, while ramping Helin's recurring revenue.
On the innovation side, Helin will further enrich the security features of Polaris. Industrial clients deploy their algorithms and applications using Polaris. This digital IP must be secure and protected. Aside from the public key infrastructure Helin has developed and integrated, even more advanced cyber security features will be included into Polaris. This will make Polaris the most secure edge computing platform available.
"Helin's deep knowledge and understanding of complex processes and technology together with global operating clients is impressive. Hence, as Capital Mills we are proud to invest and support Helin in the transformation and acceleration of their SaaS offering"
Rene Delsing
Investment Manager at Capital Mills