MessageBird acquires 24 sessions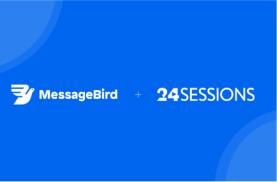 A message from Rutger Teunissen, CEO of 24sessions
5 years ago, Konstantin Goncharuk and I set out to help businesses offer the best video call experiences to their customers. Along the way, we discovered we were solving a bigger problem: to rethink the way organizations communicate with customers. With MessageBird we have found a partner that truly shares this mission, as their vision is to make communicating with customers as easy as with a friend.
By joining forces with MessageBird, we are making a leap forward in our mission to improve personal customer contact. Over the past years — and especially last year — video has become a more embedded, instant, intelligent and integrated part of the omnichannel customer experience.
Together with MessageBird, we can continue to drive the power of video calls as one of the primary channels for high-value customer contact. And turn video customer contact into an even smoother digital experience for businesses and organizations around the globe.
We can imagine this is exciting news for our customers — and it is! Teaming up with MessageBird means we will have more resources and expertise at our disposal to support our customers, product development and future growth.
Aside from this, nothing will change and we will continue to run 24sessions as we always have — now as a business unit of MessageBird. Our customers will continue to see the same beloved product, service, people and support from 24sessions that they're accustomed to. 
I would like to take this opportunity to thank all of our clients and partners for putting their trust in us, and for bringing us to where we stand today. Our journey has only just begun – we can't wait to see what the future will hold!
Warm regards,
Rutger Teunissen and the 24sessions team